Fertility Centres Vijayawada
IVF Centre and Fertility Clinic in Vijayawada
Nova IVF Fertility, D.No.73-1-10/1, 73-1-13, Second Floor Above Reliance Digital, M G Road, Opposite Durga Mahal Patamata, Vijayawada - 520 010
The number of couples suffering from infertility has seen a steep rise in Vijayawada from 1 in 10 to 1 in 3. This can be attributed to the increase in awareness levels of infertility. Hormonal imbalance, obesity and advanced maternal age are the reasons why infertility is on the rise.
Nova IVF Fertility, Vijaywada is one of the best and leading centres in South India, which treats all kinds of fertility issues. The centre was launched to cater to the demands of infertility in the state of Andhra Pradesh. The fertility specialists start by performing a fertility assessment of the couple to identify the root cause of the problem. The IVF centre is capable of performing simple to the complex of fertility treatments that includes medical management, IUI (Intrauterine Insemination), basic IVF (In Vitro Fertilisation) to advanced treatments such as Intracytoplasmic Sperm Injection (ICSI).
With a vision to provide best-in-class fertility treatment Nova IVF Fertility is equipped with state-of-the-art infrastructure and labs which follow international guidelines on maintaining standards in delivering high quality fertility treatment.
The centre has one of the best infertility specialists, embryologists and counsellors who play a key role in the fertility treatment of a patient. The centre handles the IVF process in a seamless way - treatment, collection of ovum, freezing, transfer post processing. The lab at this centre performs diagnostic tests to measure hormones, identify structural issues in male and female. The fertility specialists, one of the best in Vijayawada can perform laparoscopic surgeries and tests like the Endometrial Receptivity Array to treat female infertility. The donor program is stringent and follows a set of strict protocols. Fertility consultants also perform TESA / PESA for severe male infertility conditions.
The IVF treatment cost is affordable and transparent. The IVF pregnancy success rates are in par with international success rates.
The centre treats patients from all over Andhra Pradesh and Telangana.
Services Offered:
Infertility assessment
Blood Tests
Semen Analysis
Endometrial Receptivity Array (ERA)
Intrauterine Insemination (IUI)
In Vitro Fertilisation (IVF)
Intracytoplasmic Sperm Injection (ICSI)
Cryopreservation
Donor Program : Sperm / Egg / Embryo
Hysterosalpingogram (HSG)
Our fertility doctors & IVF specialists
Our doctors are backed ably by world-class infrastructure and highly skilled embryologists who follow guidelines prescribed internationally such as ESHRE and also adhere to ICMR guidelines. Our treatment plans are personalised for each patient to maximise their chances of a positive pregnancy. In-house counselors offer personalised and continuous support throughout the treatment process.
MS ( OBG), Fellowship in Reproductive Medicine
IVF Specialist In Patamata, Vijayawada
Book an Appointment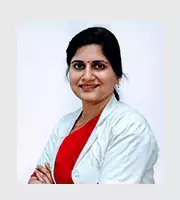 MRCOG(UK), CCT, Post CCT Fellowship in Assisted Conception, Sheffield, UK
IVF Specialist In Vijayawada
Book an Appointment
Nova IVF Fertility, D.No.73-1-10/1, 73-1-13, Second Floor Above Reliance Digital, M G Road, Opposite Durga Mahal Patamata, Vijayawada - 520 010
After arrival at Vijayawada International Airport, you can avail transport facilities like private taxis/cabs, buses. Bus Route: Airport to Gurunanak Nagar College, time taken from Airport: 1hrs. For more information on the Vijayawada airport visit https://www.aai.aero/en/airports/vijayawada
Nearest Railway Station: Vijayawada junction Bus Route: Vijayawada City bus: 5 SG Railway Station - Autonagar (via Gurunanak Colony), 77 S Railway Station to Ramavarappadu. Time taken: 1hr. For more information on Indian railways: http://www.irctc.co.in/ & http://www.indianrail.gov.in/
Bus: From City Bus stand Route No:- 5G Kaleswararao Market – Autonagar (Via Gurunanak Colony) Time taken: 1 hr. Long route bus service (APSRTC) is available from all nearby states (Telangana/Tamil Nadu/Karnataka). Auto: Auto-rickshaws (autos) can be availed from any part of the city. For more information on public transports: https://www.apsrtconline.in/
Dr. Sreelakshmi Atluri
Dr. Sreelakshmi Atluri
Infertility Specialist in Vijayawada
MS ( OBG), Fellowship in Reproductive Medicine
Dr. Sreelakshmi Atluri is a Fertility Consultant at Nova IVF Fertility, Vijayawada. She has been specialising in the field of Obstetrics and Gynaecology, Reproductive medicine for the last 8 years and has many successful IVF pregnancies credited to her name. She also underwent training in laparoscopic surgeries to treat couples who require surgical intervention.
Dr. Sreelakshmi is adept at IVF/ICSI procedures (IUI, TESA, Ultrasound guided Oocytes Retrieval, Cyst aspirations and Embryo transfers). Dr. Sreelakshmi Atluri is an expert in treating advanced maternal age with infertility, poor ovarian reserve, fertility preservation, pre-implantation genetic testing & male infertility (Low sperm counts to No sperm counts). She believes in evidence based ethical treatment strategies with empathy and individualized personal care. She has a clinical success rate of 72.6% when it comes to IVF.
MBBS from Siddhartha Medical College, Dr.NTR.University of Health Sciences, Vijayawada, Andhra Pradesh (2006)
Internship at Siddhartha Medical College, Vijayawada, Andhra Pradesh, (July 2006-07)
MS (OBG) N.R.I Medical College, Chinakakani, Mangalagiri, Guntur , Andhra Pradesh (2013)
Fellowship in Reproductive Medicine and Endocrinology from CRAFT Hospital and Research centre, Kerala (2017)
Obtained both MBBS and PG seats on the basis of merit through entrance examinations.

As an undergraduate achieved gold medal in Forensic Medicine & passed in distinction in some subjects.

As an undergraduate presented working model of treatment for Neonatal Jaundice in MEDHA, held at Siddhartha Medical College,2006, and was selected as one of the best models.

As a postgraduate, has been awarded Best paper for the scientific paper titled "VP Shunt Induced Peritoneal Cyst Mimicking as Ovarian Cyst" presented during the clinical meetings held at NRI Medical College.
Member, Medical Council of India (MCI)
Dr. Y. Swapna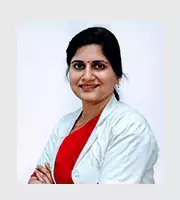 Dr. Y. Swapna
IVF Specialist in Vijayawada
MRCOG(UK), CCT, Post CCT Fellowship in Assisted Conception, Sheffield, UK
Dr. Y. Swapna is a Fertility Consultant at Nova IVF Fertility, Vijayawada. She has been active as a Medical practitioner for over 12+ years in the United Kingdom and 8 years in India and has been working in the field of Reproductive Medicine for more than 10 years. She has performed over 2000 IVF cycles in India and over 900 cycles in the United Kingdom.
Dr. Swapna's is one of the few fertility specialists in India who is certified and trained in the United Kingdom in treating Male Fertility issues that includes Azoospermia or severe oligospermia. Dr. Swapna performs the following surgical procedures in men with fertility issues which includes Surgical sperm retrieval through PESA (Percutaneous epididymal sperm Aspiration) and TESA (testicular sperm Aspiration), She also does female fertility enhancing surgeries which include Hysteroscopy with polypectomy, adhesiolysis, septal resection. Laparoscopic procedures performed by her includes Laparoscopy with chromotubation/dye test, Laparoscopic ovarian drilling, Laparoscopic salpingectomy, Laparoscopic ovarian cystectomy and Laparoscopic removal of endometrioma as well as treatment of endometriotic spots.
She also treats female infertility including poor ovarian reserve and advanced maternal age, PCOS, repeated treatment failures, recurrent miscarriages, poor endometrial development, fertility preservation (in cancer patients) and pre-implantation genetic testing.
Having treated 1000's of couples she has the expertise to treat simple to complex infertility issues in both men and women.
Publications
Presentation at RCOG World Congress on Progesterone level on the day of Hcg trigger and pregnancy outcome
Poster presentation at British fertility Society, January 2014
Recurrent miscarriage – presented at deanery teaching.
Reduced fetal movements – July 2014
IVF outcome in poor responders on GnRH antagonist protocol. – 2013
Laparoscopic complications – July 2012
Chapters in books
Co-authored a chapter on "Overview of Management of male infertility" in a Book on Subfertility, Reproductive Endocrinology and Assisted Reproduction" by Cambridge University press, June 2019
MBBS from Rajiv Gandhi University of Health Sciences, Bengaluru (2003)
MRCOG from Royal College of Obstetricians and Gynecologists, UK (2011)
CCT in Obstetrics and Gynecology Northern Deanery, UK (2015)
Post CCT Fellowship in Assisted Conception – Assisted Conception unit,Sheffiield, UK (2015&2016)
British Fertility Society Certification in Assisted Conception, Male Infertility, IUI and Embryo Transfer and Pelvic Ultrasound Scanning
Member, Federation of Obstetric and Gynaecological Societies of India (FOGSI), Vijayawada
Member, Indian Society for Assisted Reproduction (ISAR)
Member, Royal College of Obstetricians & Gynaecologists (RCOG)
Member, European Society of Human Reproduction and Embryology (ESHRE)
Member, British Fertility Society (BFS)