Ivf Center
Delhi Ncr
Fertility Clinic in Bijwasan
Fertility Clinic in Bijwasan
Nova IVF Fertility and Southend Fertility & IVF Clinic, 854, Nayakpura, Near fly over Bijwasan, New Delhi 110 061
Nova IVF Fertility, Bijwasan, South Delhi has one of the leading fertility specialists in Delhi NCR who has over 3 decades of experience in OBG and Infertility. Bijwasan is well connected through metro and railways. The fertility clinic at Bijwasan caters to the people seeking fertility treatment from Dhulsiras, Vasant Kunj, Mahipalpur, Rangpuri, Nangal Dewat, Bijwasan, Samalkha, Bamnauli, Kapashera, Shahbad Mohammadpur, Rajnagar and part of Dwarka.
The fertility clinic has expert infertility specialist, support staff and counsellors who play a key role in the fertility treatment of a patient. The clinic handles the assessment, ovulation induction. The clinic is supported by our labs in Gurgaon and Indirapuram. The lab performs diagnostic tests to conduct basic and advanced blood parameters, measure hormonal levels, identify structural issues in male and female.
The clinic also offers treatment for couples looking for advanced IVF treatments for PGT and cryopreservation for preserving eggs, sperms, embryos for women/men who have been diagnosed with cancer and are planning conception years after treatment completes or who are planning to focus on career and are planning parenthood. The clinic will cater to the needs of couples as simple as medical management for fertility to complex issues including multiple IVF failures.
Services offered:
Infertility assessment
Blood Tests
Semen Analysis
Intra-uterine Insemination (IUI)
In-virto Fertilisation (IVF)
IVF - Intracytoplasmic Sperm Injection (ICSI)
Pre-genetic Testing (PGT)
Testicular sperm aspiration (TESA)
Percutaneous Epididymal Sperm Aspiration (PESA)
Cryopreservation
Our fertility doctors & IVF specialists
Our doctors are backed ably by world-class infrastructure and highly skilled embryologists who follow guidelines prescribed internationally such as ESHRE and also adhere to ICMR guidelines. Our treatment plans are personalised for each patient to maximise their chances of a positive pregnancy. In-house counselors offer personalised and continuous support throughout the treatment process.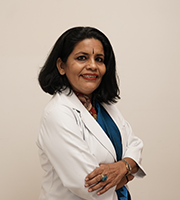 MBBS, DGO, FICOG, Diploma in ART and Embryology, Diploma in Ultrasonography and Advanced ART, Diploma in Ultrasonography, IVF and Embryology
Fertility Specialist in Bijwasan
Book an Appointment
Nova IVF Fertility and Southend Fertility & IVF Clinic, 854, Nayakpura, Near fly over Bijwasan, New Delhi 110 061
After arriving at Delhi Airport, one needs to hail a cab to Bijwasan fly over. The center is situated near the signal and is to the right above Muthoot fincerv office.
Landmark :
Near BIJWASAN Fly over in Right
Above Muthoot finserv / Near Bikaner Sweet House
After arriving at New Delhi railway station, one needs to come out & board the Airport Express Metro till Sector 21 metro station. After alighting one needs to hire an autorickshaw to Bijwasan fly over.
Landmark: Opposite to Perfect Diagnosis, Near Bijwasan fly over.
By Metro Train -
From Airport: From Airport to Airport Express Dwarka Sector 21. Alight Dwarka Sector 21 Metro station and one needs to take autorickshaw for Bijwasan fly over.
Blueline metro is a direct line to reach Bijwasan centre (Till Dwarka sector 21)
If you are at Interstate bus stand, you needs to board Bus No 729 (Mori gate To Kapeshera) To Kapeshera. Then ride an autorickshaw to reach Bijwasan Fly over.
Landmark: Above Muthoot finserv.