Dr. Mahesh Koregol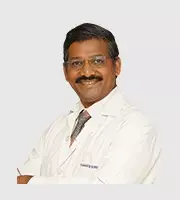 Dr. Mahesh Koregol
Infertility Specialist in Bangalore
MS (OBG), Fellowship in Reproductive Medicine
Dr. Mahesh Koregol graduated from Jawaharlal Nehru Medical College, Belgaum and received his MBBS in Karnataka University. He completed his MS in Obstetrics & Gynaecology from Kasturba Medical College (Manipal University), Mangalore. Dr. Mahesh has specialised in Reproductive medicine through Fellowship from Rajiv Gandhi University of Health Sciences (RGUHS).
For more than 10 years Dr. Mahesh Koregol has been practicing infertility and reproductive medicine and is an expert in handling IVF, ICSI, ovulation stimulation, male fertility, TESA, PESA etc. and has helped more than thousands of infertile couples to conceive.
Patient Testimonials
I really like the environment of the center neat and clean good interaction at the front office Dr.mahesh is very good and understanding speak nicely thank you Nova and Dr Mahesh
Shabbirbagwan 
25th July is celebrated as the World IVF day every year. On this day, we would like to express our gratitude to Dr Mahesh Koregol and his entire staff at Nova Fertility, Kormangala branch for making our dreams come into reality. My case was complicated since I had lost both Fallopian tubes due to ectopic pregnancy 5 years back. Hence IVF was the only option left for us. Previous IVF cycle had failed couple of years back and I was emotionally and physically drained. We did a lot of research on internet and consulted many people to get the right physician and were confused with too many options available. Finally our family physician recommended us to consult Dr Mahesh Koregol and get his advice. We came to Dr Mahesh Koregol with a broken spirit and post our first meeting, Dr Mahesh gave us the ray of light and hope that it would be successful this time. He clarified all our doubts and advised us to relax and leave rest of the work to experts. Moreover, he's always approachable and gives the right advice, treatment which is beyond expectations. In just a few short months Dr Mahesh didn't just give us hope, but gave us results! I appreciate all that you have done for us Dr Mahesh and team and we are thrilled to be expecting. You've turned our hopes, dreams, and prayers into a reality. We can't be more grateful to Dr Mahesh and entire team at Nova IVF Fertility Center, Koramangala. Entire staff has treated us as their family members and always were part of our journey to success. Dr. Mahesh Koregol and entire staff at Nova centre will always hold a special place in our hearts and we are always indebted to them. I would highly recommend Dr. Mahesh Koregol and his dedicated team at Nova IVF Fertility Center Kormangala to any couple who are planning for IVF. Thanks again Dr Mahesh and team for your guidance, treatment and support as always. 
Rajeshwari Desai
Nova IVF is amazing place with excellent doctor and very friendly staff. Dr. Mahesh turned our biggest dream in reality. He helped us to complete our family with adding one more joy to our life. Thanks another everyone one in Nova.
Anita Bashetti
Happy to share our experience with NOVA IVF, as the only last hope what we had... Visited so many places but found no result, Thanks to Dr Mahesh koregol the one who gave us a new life to live. It is just not the doctor, but also the support of the other staff in the fertility center kept us encouraged during our entire treatment process. We recommend each and everyone struggling to have a baby to reach out here.
Zeeshan Pasha
Very good experience in Nova IVF. We thank the doctor Dr. Mahesh Koregol and his entire team a lot. Dr.mahesh is very experienced, good and understanding speak nicely. DR. MAHESH KOREGOL is one of the best doctor we have ever met. After meeting him, he diagnosed our problem correctly. I once again thank Dr mahesh for his support and guidance throughout our ivf journey.
Gupta Archita
I would like to thanks nova ivf and specially dr. mahesh Korogel with his help and support, I conceived in first attempt of ivf at kormangala. Earlier I tried with other ivf center but not succeed. Dr Mahesh is very cool, calm and friendly and creates positive atmosphere around him that gave me lot of confidence during the treatment with Dr. Mahesh Koregol. In this corona time the hospital us following all the government rules for the safety if the patient during all the procedures. Infrastructure and lab facility is very good and they maintain honestly and transparency at every stage. I would recommend any couple who is looking for ivf treatment to go with dr. Mahesh Koregol and nova ivf center kormangala.
Reeti Jha
DR. MAHESH KOREGOL. Senior Consultant IVF Specialist KORAMANGALA, Bengaluru is one of the best doctors we have ever met. We were trying to become parents since long. After meeting DR.Mahesh, he diagnosed our problem correctly and suggested us to go for ICSI. After long discussion within ourselves, we decided to take the treatment. Doctor's words were positive since the day 1 we met him. Now my wife is in her second month of her pregnancy. I have no words to describe how thankful I am to the Doctor and his team. I would like to specially mention all the staff in the hospital, be it receptionist or junior doctors or pharmacists, everyone in the clinic give a big positive environment there. I would like to recommend this to every couple who is struggling to become parents. I once again thank DR. MAHESH KOREGOL for his support and guidance throughout our ivf journey.
Karthik LG
It's been pleasure to meet Dr.Mahesh sir and having such a wonderful treatment from him as well as from NOVA care, and they are the only persons who brought hope in my life and also reason for rest of my life, a special thanks to Dr.Mahesh sir and also the NOVA staff Ms.Kavya,Ms.Sandya and finally the last but not the least NOVA nursing staff, God bless them all with healthy and long life, thanking you once again.
Ms.Jayashree
I would like to thanks nova ivf fertility center, koramangala, and specially thanks to Dr. Mahesh korogel with his help and support I conceived in first attempt of ivf. Dr. Mahesh is very cool friendly person he answered all our questions we are really blessed, and also thanks to nova staff they all very supportive persons Karolin, muttu Lakshmi, Nirmala, noor Zaiba, sreeja exspecially Ms.Kavya, she is very supportive, friendly, humble, smily person, she creates positive hopes and clarified my all doubts from the first day and till now, thank you so much Kavya maam. Now I blessed with baby girl thanks a lot Nova???
Shwetha Shwe
We are happy with Nova IVF fertility center. Dr. Mahesh is very friendly and caring and he is the best. Special thanks to Doctor and entire team. He explains and makes us to understand the problem. We will recommend Nova IVF for infertility treatment
vinodhini Karthikeyan
Dr Mahesh is a very friendly doctor, addresses to each and every queries with smile. He is always available whenever required. Gives positive energy to all the patients. Down to earth person, easily communicable with the required details. We feel emotionally good. Thanks to Dr Mahesh Koregol for helping us.
Dr Mahesh and Nova IVF is definitely very good when compared to other doctors and hospitals.
Mrs.Vimaladevi Srikanth
Good treatment from Dr Mahesh Koregol and from all hospital staffs. It was a very good experience for me Dr Mahesh took good care and he will treat very nicely and kindly. He is available to give suggestions and treat at any time. He will work for patients 24*7.
It was my first treatment from your hospital only Nova IVF hospital is very good even staffs are also very good .Nice hospital. Thank you Dr Mahesh for treating me. All the best for your upcoming career and all the best for your hospital.
Mrs. Surekha Patil
Never expected motherhood, by reaching Nova Kormangala Dr Mahesh Koregol treated us very well, amazingly done for us, guiding us in a proper way to reach our goal. Friendly guidance by Dr Mahesh thanking you is only one word to tell u sir. We are very happy and glad to enter parenthood by you. Dr Mahesh Sir only your blessing is done.
I had never been to any center but God's grace and Dr Mahesh Koregol Sir's grace it got success in Nova only.
It was an awesome experience in the hospital. All were well set and taken care.
Mrs. Archana S N
Before coming to Nova we almost lost our hope to having baby. But thanks to Dr Mahesh Koregol and Nova team for fulfilling our long awaiting (7years) dream.
Nova is doing wonderful job in term of treatment and procedure. I would like to suggest other also for getting IVF done at Nova with Dr Mahesh Koregol. Thank you Dr Mahesh Koregol and Nova IVF.
I don't no other fertility centers but my experience in Nova is very good. I am extremely happy with the services and the package offer by Nova IVF.
Especially the Doctors of Nova is very well equipped also the hospital staffs are very supportive.
Mrs.Ekta Singh
Had lost all hopes in life and thought I should give up on becoming a mother. We had tried various treatments with other hospitals but without any success. Finally we visited Dr. Mahesh Koregol as a last attempt and I must say he is a wonderful person and he made us feel extremely. We did not feel that we were interacting with a doctor but a friend.
The entire staff is very friendly, along with our baby project we also made some wonderful friends in the center. The sisters are also wonderful.
Smita Parkar
The entire experience is extremely good and Dr. Mahesh Koregol has been guiding and explaining us each and every step of the procedure. He also supported us morally. The support staff is equally good and caring and adviced us on any upcoming issues and related information throughout the treatment. We wish Nova the very best for future cases.
Both Doctor and support staff motivated and treated us very well.
B. Nayeema
Dr. Mahesh Koregol Sir, the treatment I received was excellent and I would like to thank you! The staff at the centre was also very good. Thank You.
Very good experience and good staff compared to other fertility centres.
Mrs. J. Sivalakshmi
I am extremely happy and satisfied with Nova. I came here with hope and my hopes got fulfilled. Dr. Mahesh Koregol is like our god .Without him we wouldn't have got what we wanted. The staff in this centre is polite and helpful. They handle difficult situations very well. Thanks to everyone.
Choney Dolma
Had a very good experience with the Doctor and the entire staff.
K. Sivapriya
Impossible is possible here, you get the best service and advise. Information was not overloaded. It was always sort. Thanks to Dr Mahesh Koregol for bringing this day to my life.
P. A.
It was a great experience. I would like to thank Dr Mahesh Koregol to give us hope and he is very friendly and addressed all our concerns. The entire staff is very friendly and helpful.
Nagashree Kiran
It has been a wonderful and smooth journey with Dr. Mahesh Koregol. I am so happy that he did not recommend any unnecessary medicines and tests. Dr. Mahesh is very calm and he knows his job very well. I will certainly recommend him. The staff here is very helpful and they maintain professionalism. The wait time is not high unlike other clinics and Nova doesn't recommended extra list of medical tests which generally most of the other clinics in Bangalore do.
Mrs. Khushboo Shah
After visiting Nova, we gained the confidence that we can have a baby and with the help of Dr. Mahesh Koregol's treatment we got positive results. We had tried many treatments earlier from other hospitals but was not successful. Nova IVF Fertility, Koramangala helped my dream come true and thanks a lot Dr. Mahesh Koregol.
Mrs. Sharanamma
I had a good experience consulting Dr. Mahesh Koregol. Its nice to see how attached he is with his patients. We had no tension and stress because of his friendly behaviour. Unlike other centers, Nova gave us hope and finally we are happy with our successful result.
Mrs. Nisha K V
We thank Nova for the constant support in building this happy moment in our life. We specially thank Dr. Mahesh Korgol, assistant doctors and other staff for making this happen.
Mrs. Gayatri T R
Nova gave a home like experience for us. They were very caring and helpful towards patients. Dr Mahesh Koregol was very friendly and was available 27/7 on calls or WhatsApp to clarify our queries, address our problems and give solutions. I feel Nova is very approachable.
Mrs. Vidhya Kala V
It was really a good experience with Dr. Mahesh Koregol and we are very satisfied with the way the hospital is maintained. The staff is also very co-operative. The experience in this hospital is very good compared with others.
Mrs. Nethra
We are really thankful to Nova IVF Fertility, Kormangala and our very special thanks to Dr Mahesh Koregol for his excellent treatment and guidance. Dr Mahesh Koregol was very confident with his treatment. After a long time, today we got positive result because of his treatment . We will surely recommend everyone to visit Dr Mahesh Koregol . In my first attempt itself, we got success.
Over all it was a very good experience . The staffs were really helpful and did very good follow-up.
Mrs. Rajalakshmi A
First, we would like to thank Dr Mahesh Koregol sir, all assistant doctors and nurses for the care that they have shown us all throughout our treatment and the subsequent positive result.
Special thanks to Dr Mahesh Koregol sir and Deekshija madam for their quick responses and being available at all times and also for sharing their contact numbers for asking doubts.
In the previous hospital we were not getting good responses to the doubts which we had. The nurses were rash and were not bothered about answering our doubts.
At the Nova hospital, Doctor Mahesh Koregol sir and the staff were very kind and gave very good responses at all time.
Mrs. Soujanya K
I am very happy with the treatment in nova under the guidance of Dr Mahesh Sir. I am pregnant now. By this doctor my dream has come true. I personally suggest this Nova Center who are looking to have a baby with good health. The environment in Nova IVF is very good and doctors treated us very friendly. I feel Nova is the best fertility center.
Mrs. Sreelakshmi Kovur
We were initially scared about this IVF process when we first came to Nova, Dr Mahesh explained the process in many terms so that we can understand and made us comfortable .He guided us throughout the process and made sure it goes in the right direction .He script the process transparent which gave us confidence. At last magic happened we got a positive result in our first IVF. Thanks a lot to Dr Mahesh. This is our first Fertility center which we have visited
Mrs. Kumari
We really had a very great experience with Dr Mahesh Koregol and Nova, Kormangala.We went to other hospitals as our pregnancy got delayed but didn't get proper solution. Dr Mahesh is highly talented up to date with current advancements in the field of fertility and gave very nice treatment and we are happy now we bless Dr Mahesh long live with his family and bring more smiles to more patients. Clear in treatment, focused way of treatment. No hide and seek .Dr Mahesh was available all the time to clarify all our doubts even at any time and any day. His passion to his profession is highly appreciable which is not common now a days.
Mrs. Vishnupriya
Respected Sir, We are feeling very happy Our Family doctor referred to meet Dr Mahesh. He treated us very well. Before visiting Nova we consulted many doctors but finally we were blessed with a child after consulting Dr Mahesh. Very thankful to Dr Mahesh and his team.
Mrs. Nagamani
We really had a very great experience with Dr Mahesh Koregol. He gave us very nice treatment and we are happy to be blessed with a child through IUI. Dr Mahesh long live with his family and bring more smiles to more patients.
Patient at NIF, Koramangala
I am very much glad about my pregnancy report coming positive. Dr Mahesh our doctor. I am very much impressed with his treatment.
All the nurses and locality very good. The treatment of the doctor is too good and I am very much happy of being pregnant.   
I was undergoing my fertility treatment but all was in vain left the treatment and my doctor recommended about Dr. Mahesh Sir. I came here and the first time I conceived. After the treatment I am pregnant now and I am feeling in air. So I recommended my friends also about this hospital.    
Mrs Sobha
Dr Mahesh Koregol gives immediate response & excellent advice. I like the treatment & advice under Dr Mahesh very much. I am three month pregnant now.
Very nice hospital. Dr Mahesh gives full information about treatment. He is available in Nova any time for advice & it's put me at comfort & removes tension.
Mrs. Madhavai Auvla
Dr Mahesh Koregol is very good natured doctor. He does consultation & IVF procedures on time and does not make us wait for long time. Nova IVF Kormangala is a good hospital. Dr Mahesh Koregol is healthy and good doctor. 
In other fertility centers I didn't get any positive results. I conceived under Dr. Mahesh in first IVF treatment cycle at Kormangala. This is very good hospital with high success rates. 
Mrs. Latha R
First I thank GOD for giving me an opportunity to meet Dr. Mahesh Koregol, we are confident that he is the right person to continue with our treatment. He suggested us for IVF. Immediately we started treatment first IVF cycle was succeeded now am 4th month pregnant. Many of his patients recommended him as a good doctor. Excellent Nova IVF Koramangala.
Mrs. Sudha Ramesh
Dr Mahesh Sir is awesome. He is so friendly and cooperative. He is a nice human being. We are very happy with his treatment. I conceived with very less time. Many thanks to Dr Mahesh Sir. 
Best doctor is Dr Mahesh Koregol, less consultation fees, friendly staff, and cleanliness.
Mrs. Rojalin Nayak
First, I thank GOD, given an opportunity meet Dr Mahesh at NOVA. After meeting Dr Mahesh we are confident that he is right person to continue with our treatment. We undergone the IVF treatment and my wife conceived in FIRST IVF Cycle and now she is fourth month pregnant.
Many of your patients recommended you as a good doctor. But I am going one step further to recommend you as ''Great Human Being'' as per our experience with you. I and my wife vouch for him because he is simple, has positive attitude, patient oriented, treats the patient with dignity, down to earth and also he suggest required tests.
My wife had pregnancy complication at 6th week. I remember that Saturday after noon , I was outside got call from wife saying that sever pain in stomach .That time Dr Mahesh was in Switzerland to attend IVF seminar . I messaged in whatsapp, immediately be responded and told meet doctor at NOVA. The pain is so severe, as it required medical management. Then Dr Mahesh spoke to his colleague in Rainbow BG Road and arranged for the required treatment. During our story at hospital, He was constantly in touch with Rainbow doctor and me, tracking the treatment. We didn't feel his absence during the treatment. We really appreciate him for very quick response to call doctor messages during outstation. That's show his ''COMMITMENT'' towards his patients and easily approachable by any means of communications at any time.   
 Hospital ambience is excellent with neat, clean and melodious music. Payment policy for treatment is very good as compared with our experience in other hospital. Medical, Pharmacy and reception staff are polite, friendly in nature.
Mrs Asha Channada