Dr. Hima Deepthi V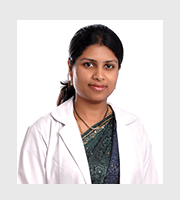 Dr. Hima Deepthi V
MBBS, MS (OBG), Advanced Fertility Training (USA), FMAS
Dr. Hima Deepthi is a Fertility Consultant at Nova IVF Fertility, Hyderabad since the inception of the fertility center in Banjara Hills, Hyderabad. She is an OBGYN and IVF Specialist and laparoscopic surgeon with 15 years of experience and has helped thousands of childless couples conceive due to her commitment to work .She has hands-on training in Infertility Management, IVF and advanced Assisted reproductive technology( ART) methods. Apart from IVF, her areas of specialisation include laparoscopic and hysteroscopic surgeries. Her passion for Reproductive Medicine( Infertility and IVF ) has also inspired her to undergo an advanced fertility training in USA.
Dr. Hima Deepthi 's special interest is on cases that involve advanced age, poor egg reserve, endometriosis, Intra-uterine Insemination (IUI) or In-vitro fertilization (IVF) failures and provides donor (egg, sperm, embryo) services to indicated patients. She has also helped a lot of patients conceive via advanced fertility services like PGT-A (genetic screening of embryos) and ERA (uterus receptivity).
She is an IVF specialist who believes in treating patients with a human touch. She has been treating all kinds of patients, starting with simple fertility consultations to the most advanced fertility treatments, thus helping thousands of patients to conceive.
MBBS from NTR University of Health Sciences , Andhra Pradesh
MS (Obstetrics and Gynaecology) from Rajiv Gandhi University of Health sciences, Karnataka
Training in Assisted Reproductive Technology (IVF) Under Dr. B.N Chakraborty, a pioneer IVF specialist in India
Advanced training in Infertility / Reproductive Endocrinology / IVF in the U.S.A
Hands on training in ART at centre accredited by Center for Reproductive Medicine, Cleveland, U.S.A
Course in Management of Infertility at the Institute of Reproductive Medicine, Kolkata
FOGSI recognized advanced fertility training
Fellowship in Minimal Access Surgery certified by World Association of Laparoscopic Surgeons (WALS)
Observership in robotic, laparoscopic and hysteroscopic surgeries in the USA
Ultrasound course in OBG & Infertility work-up
Organizing committee member for the national conference of Indian Society of Assisted Reproduction (ISAR) 2020
Speaker and Panelist in many National and State level fertility conferences
Conducts regular IUI training workshops for Gynaecologists
Conducts regular CME's (Medical talks) regarding fertility issues for doctors
Member, European Society of Human Reproduction and Embryology (ESHRE)
Life Member, Indian Society for Assisted Reproduction (ISAR)
Life Member, Federation of Obstetric and Gynaecological Societies of India (FOGSI)
Life Member, Indian Fertility Society (IFS)
Life Member, World Association of Laparoscopic Surgeons
Patient Testimonials
I visited Nova last 6 months back. This month my wife got positive, really I felt very happy. Dr Hima Deepthi was very supporting us. This is the first fertility center I am visited. The way of entire system in nova is very good.
Patient at Nova IVF, Hyderabad
I am Padmapriya. I consulted Dr. Apurva for getting pregnant. In the first cycle of consultation, I got pregnant. I am very much happy and satisfied with the treatment and consultation by Apurva mam. She accurately predicted what is required, with minimal number of tests and treated us. She is very much friendly, open to all kinds of queries. Especially during the lockdown period, she provided consultation over phone which is a timely help and care. I highly recommend Dr. Apurva for fertility and conception related consultation and treatment. Thank you so much Apurva mam.
Padmapriya
Deepthi Madam is the most intelligent and sensible doctor we have ever met. She has helped us go through treatment in a peaceful and objective manner. I would recommend her to anyone who needs similar help. Excellent doctors and reliable procedure and equipment.
Patient at Nova IVF, Hyderabad
Nova Hospital is god for women. Thank you Nova.I got pregnancy, Nova is god those who not get pregnancy. They can come & take treatment. Doctors are good they give nice treatment. Nova is a very nice hospital any women can come and take treatment.
Other hospitals are good but Nova is different from them. Thank you Nova I am so happy.
Patient at Nova IVF, Hyderabad
It is excellent experience of course, starting from Dr. Hima Deepthi to the nurses, Pharmacist and to the receptionists. Good Staff , Thank you for help, the most important thing is care.
Mrs. M. Namarik (Patient from Sudan)