A combination of IVF with own gametes and sperm retrieval using TESA – The most common treatment for male fertility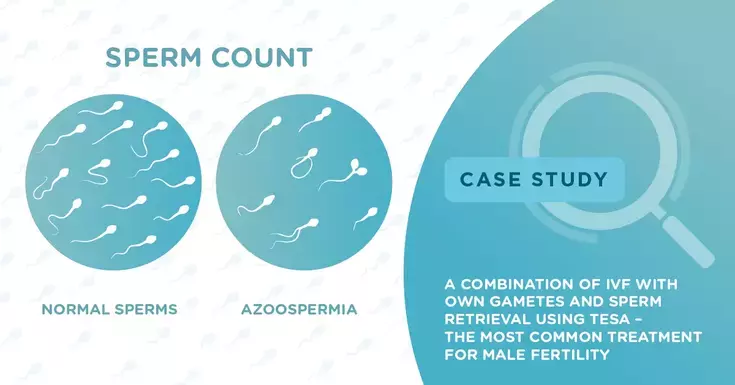 Raj (32) and Anita (29) married four years ago and were living a happy life together, but they yearned for a child. The couple decided to see a fertility specialist elsewhere in order to understand the true cause of their infertility. Anita had some basic lab and clinical fertility tests. Her results from these tests appear normal, and she has no history of infertility. As a result, the consultant decided to examine Raj to determine if the issue was related to male fertility (caused by poor quality sperm production, insufficient sperm production or abnormal sperm transport). An essential step in assessing and diagnosing male infertility is sperm analysis, so Dr. Anindita recommended semen analysis for Raj.
Semen analysis
Semen analysis can be used to determine how much sperm a man produces. It also displays the quantity and quality of sperm in the sample.
Raj was diagnosed with azoospermia following a sperm analysis (no sperm were present in his semen sample).
Azoospermia
Azoospermia occurs when a man's ejaculated semen is completely devoid of sperm. Azoospermia is classified into two types: obstructive and nonobstructive. A blockage or missing connection in the epididymis, vas deferens, or elsewhere along your reproductive tract causes obstructive azoospermia. There is no detectable amount of sperm in your semen, even though you are producing sperm; however, it is being prevented from leaving your body. Non-obstructive azoospermia means you have low or no sperm production due to defects in the structure or function of the testicles or other causes.
Diagnosis
An andrologist must perform a thorough clinical examination before deciding (palpation of the testicles, measurement of testicular volume, palpation of the epididymis). It may be accompanied by a testicular and prostate ultrasound.
Counselling and Management
Due to their dissatisfaction with the outcome, the couple was counselled and advised to pursue additional fertility treatments at the Nova IVF fertility centre in Kolkata. The couple responded that they would like to see the fertility consultant at Nova Kolkata. They made an appointment with Dr Anindita Singh, a fertility consultant, for male infertility. After reviewing their previous reports, the consultant examined the couple and inquired about their willingness to undergo medical treatments for a baby. The couple expressed a desire to have a child using their own gametes rather than donor sperm.
Following a review of their preliminary investigations, the consultant recommended IVF using their own gametes for this couple. Most patients with obstructive azoospermia (OA) may be candidates for sperm aspiration as part of their IVF procedure.
Sperm Retrieval by Testicular Sperm Aspiration
TESA is an abbreviation for Testicular Sperm Aspiration. It is a minimally invasive technique used in reproductive medicine to obtain spermatozoa. It is possible to recover spermatozoa from the testis or the spermatic pathway in patients with azoospermia. Spermatozoa can be recovered in some cases of azoospermia caused by spermatic duct obstruction (obstructive azoospermia), but only 50% of cases of non-obstructive azoospermia (due to a production deficit). In obstructive cases, recovery is usually possible through a simple puncture of the epididymis or directly from the testicle, whereas in non-obstructive cases, a small intervention like a biopsy is usually required.
Raj's sperm were extracted directly from his testes using the TESA procedure. He felt no pain because the procedure was done under local anaesthesia. A butterfly needle attached to a syringe is used to puncture and aspirate the testicle.
IVF
If natural fertilisation is not possible, a medical procedure in which an egg is combined with a sperm outside the body (in a test tube or elsewhere) is used to help you become pregnant. It is the most used fertility treatment, resulting in a higher pregnancy rate.
Embryo Transfer
Embryo transfer is the procedure performed to place the embryo in the uterus, where it will develop. It is a quick and easy procedure, but it is also one of the most essential steps in the IVF lifecycle. It corresponds to the final stage of IVF, following gamete fertilisation in a laboratory environment.
The couple's gametes (eggs and sperm) were collected and fertilised in a laboratory. Once the fertilised eggs had multiplied, the embryo was painlessly and simply transferred to Anita's uterus. A blood test was performed 12 to 14 days after the embryo transfer to confirm her pregnancy, and the results were positive. After months of struggle, the couple was ready to welcome their baby.
Despite male infertility, the couple embraces parenthood with the help of Nova IVF Centre Kolkata, and Anita gives birth to a healthy boy.
Take your first step towards happiness
Subscribe to our Newsletter
More case Study