A long – delayed dream realised thanks to Nova's psychological intervention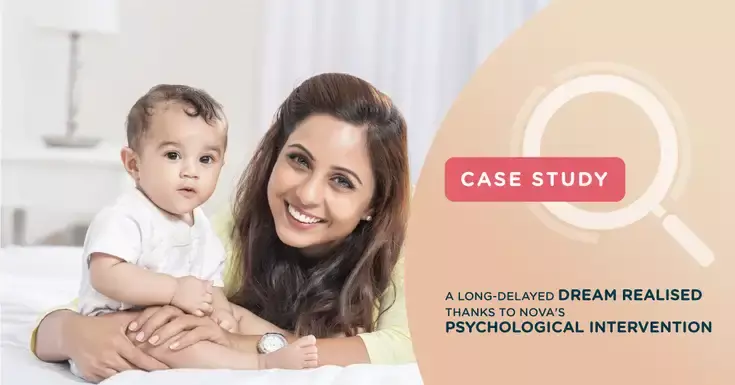 Fertility has a profound effect in a person's life, and it ultimately finds a way to seep into their career. This is evident in the case of a 42 year old woman, Rekha (name changed) who was an ambitious woman with a high paying corporate job. This allowed her to reach a level of self-sufficiency often not seen in Indian women. Rekha and her husband had been trying to conceive a baby for a few years, without success. This frustration of not being able to conceive ultimately culminated into frequent fights between the couple, as well as the family. The squabbles with the family and the snide remarks that came from the relatives never seemed to cease; this pushed Rekha into looking out for various fertility treatments. Her husband too started getting abusive with her, often resorting to extreme physical and emotional violence, which only seemed to get worse with each passing day.
Consultation at Nova Fertility, Hyderabad
During the course of these events, upon being referred by a close friend, Rekha visited Nova IVF Fertility in Hyderabad. After numerous tests, Rekha was advised to undergo IUI (Intra Uterine Insemination). However, the procedure was not successful, and this added to her guilt. Naturally, she began blaming herself for not being able to conceive a baby, and this started having an adverse effect on her mental state. The constant nagging from the family members was taking a toll on Rekha and this further pushed her into secluding herself from the outside world.
Getting started with cognitive behavioural therapy (CBT)
When things got out of control, Rekha sought psychological help. Through relentless psychological intervention, and sessions of cognitive behavioural therapy and with a view from the psychoanalytic perspective, she started remoulding herself.
With every session, the underlying irrational thoughts were restructured through a psychoanalytic perspective and a couple of sessions were used to see if there was any supressed guilt from childhood. It was mainly through CBT, to see that her desire was in alignment to her thoughts and actions.
What is CBT and how does it help?
Cognitive behavioural therapy (CBT) is used in the treatment of various mental and emotional disorders including depression, anxiety, anorexia, and substance abuse. It's essentially a talking therapy that can help you deal with your problems by changing the way you think and react. It is based on the concept that your thoughts and actions are interconnected, trapping you in an endless vicious cycle. CBT focuses on dealing with your current problems, rather than focusing on your past issues.
Treatment and outcome
Despite going through another IUI failure and failing to conceive through her 1st IVF/ ICSI cycle, Rekha and the team ploughed through. Marital therapy was used extensively and repeatedly. The husband was made to realise that his emotional support played a phenomenal role in her conception and this was not just a 'woman thing', as he often called it. Slowly and steadily, everyone worked as a team to realise the couple's limits and areas where they just needed that nudge to take a leap of faith out of their comfort zone. But things did not bode well, when she had another negative bHCG report (a test done to confirm pregnancy).
Not all hope was lost as Rekha still had frozen embryos. With steely determination and taking every ounce of energy and support she could get from the Nova IVF Fertility team, Rekha persevered. The 1st transfer too resulted in a negative bHCG. She strongly believed that only she could change her destiny. These were not the words of a woman who had a bleak existence and about to be absorbed into obscurity with her suicidal thoughts. These were the words of a woman who took strength and courage from her conviction that she would be pregnant someday. It took a lot of mental energy to reach this spirit of positivity in the social spectrum of our country given that she had only 2 crutches hope and science.
The remaining embryos were transferred, and finally resulted in pregnancy. Through sheer will and fighting against our stigma and prejudices, Rekha conceived. Things started improving between Rekha and her husband, and eventually they grew closer. The situation with the family had also drastically improved; all of this happened only because Rekha believed in herself and reached out for help.
Take your first step towards happiness
Subscribe to our Newsletter
More case Study