Parenthood after 25 years of marriage and multiple failures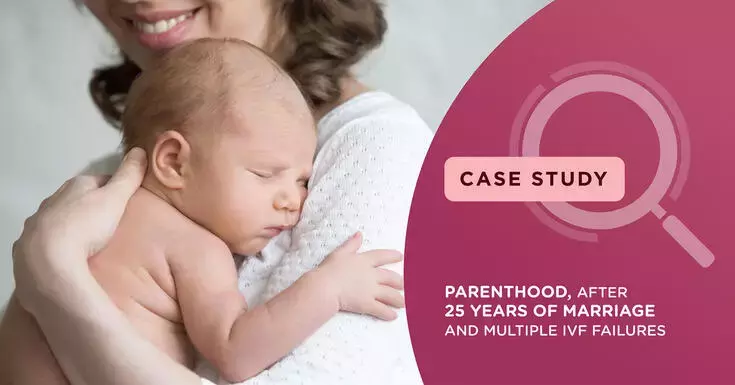 A couple, husband 49 years and wife 45 years, visited the Nova Fertility centre in Jalandhar. In 25 years of their marriage, they had undergone multiple IVF treatments at various centres with no success. They had lost all hope and were at their last pregnancy attempt.
Patient's medical condition
The couple met specialists at Nova and both husband and wife were advised to undergo routine fertility tests. The results showed that the wife had a poor ovarian reserve and a small polyp and the husband's test results gave indications of severe male factor infertility.
Understanding the medical condition and related treatment options
What are uterine polyps, associated challenges and the suggested treatment?
Uterine polyps, also called endometrial polyps, are growths inside the endometrium or the wall of the uterus.
Their size may vary, from small as a mustard seed to big as a golf ball and they could be one or many. While they do not indicate cancer and mostly remain undetected, they may cause fertility problems. Uterine polyps can prevent a pregnancy and may also cause a miscarriage. They prevent fertilised eggs from attaching to the uterus and can also block the fallopian tubes or cervix.
Uterine polyps can be diagnosed by a procedure called hysteroscopy. In this procedure, a thin telescope is inserted into the uterine cavity which allows the surgeon to look inside the uterus. Endometrial polyps are more common in women that are closer to menopause and once removed, the chances of pregnancy and delivery are much higher.
What is embryo donation and when and why is this carried out?
For some patients, generally of advanced ages, if there are very few eggs left and the sperm count is also very low, using a donor embryo is a treatment of choice. Embryo donation gives the woman a chance to carry a pregnancy using a frozen embryo of the donor couple.
The key differences are as follows
Embryo donation cost is a very small fraction of the price of other options.
Since these are already "created embryos" – the genetic screening, fertilisation etc. are all already taken care of, the accepting couple will have a very high chance of pregnancy – and at a very small fraction of the cost.
How does embryo donation work for the donor?
Most of the IVF cycles result in extra frozen embryos, preserved, for future cycles for the patients who created them. Patients who have finished having children can either continue to keep these excess embryos preserved by paying the annual charges for their cryopreservation or they can donate these for scientific research, dispose of them or have the kindness and generosity to donate them to someone else looking to conceive.
With each passing year, both infertility as well as embryo donation, is on the rise. The practice solves the issue of what to do with frozen embryos for families paying thousands a year in storage fees, and it fills a void for those that are dealing with infertility.
How it works for recipients
It is an option for couples who are at an advanced age, a smaller budget and may have tried and failed in all other options for the recipient.
There's no waiting to see if the embryo will be formed, because the cells have already multiplied in a lab and a full-grown embryo waiting to be implanted is ready.
The costs are much lower, and the wait time is also much lower.
The success rate is very high.
Comparison between embryo donation and adoption?
Unlike adoption, where recipient gets a child who is already delivered the essential difference here is that the recipient woman can be pregnant with her "adopted" child. The concept of carrying, nurturing, protecting, bonding, delivering, breastfeeding are tremendous advantages.
Experiencing pregnancy appeals to most of those that are undergoing years of fertility treatments including IUI and IVF.
Successful treatment outcome changed everything for this family
Considering the advanced age of the couple, history of multiple failed treatments, and the last treatment attempt, the team at Nova advised the couple for hysteroscopic removal of uterine polyps and DEM (Embryo Donation) as a further treatment. The team at Nova explained all the details of the treatment process and post this, the couple opted to go for this.
They looked through profiles of all available donors that contained information about the parents' jobs and medical history, along with how many births had resulted from the batch of embryos.
The wife went through several tests and medications to prepare her body and subsequently was ready for the procedure. From choosing the embryo to the transfer, the process took a mere 3 months and they were successful in the 1st attempt, at a fraction of the cost of IVF treatment.
The lady conceived in the same cycle and uneventfully delivered a healthy baby boy. They were overjoyed to have their child as it happened after 25 years of their marriage. They never stopped thanking the Nova IVF Fertility team for helping them have their baby, when they had almost given hope.
Take your first step towards happiness
Subscribe to our Newsletter
More case Study