A successful pregnancy through IVF and ICSI for a couple with male infertility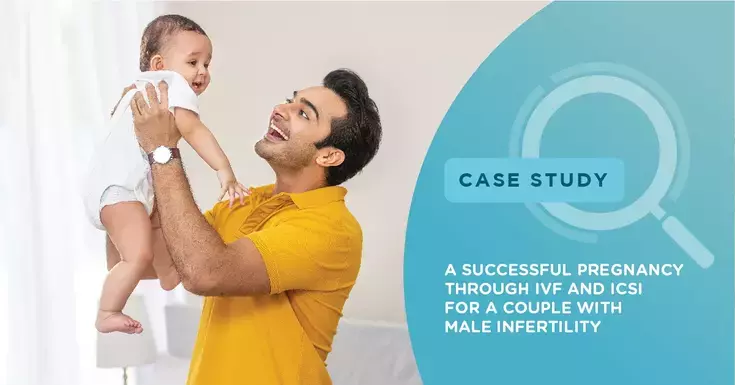 Mrs. Amrita, 27, and Mr. Udit got married four years ago and began their journey to parenthood after their first anniversary. Mrs. amrita had a 4-day regular cycle with mild pain on the first day, but no specific history. The couple ran into a roadblock when Mr. Udit was diagnosed with poor semen parameters in terms of count, motility and morphology.
Semen analysis
Semen analysis is the first and foremost examination to provide valuable data for assessing male fertility, testing a wide variety of important semen parameters.
The semen parameters assessed in a semen analysis are total sample volume, pH, semen concentration, total sperm count, sperm motility and morphology and the presence of "round cells". The semen concentration should exceed 15 million sperms/ml and the total sperm count should be above 39 million, as these are the lower reference limits.
To assess sperm motility, sperm can be divided into sperm with progressive motility, sperm with non-progressive motility and non-motile sperm. The lower reference limit in a normal semen sample is 40% for sperm with total progressive and non-progressive motility and 32% for sperm with progressive motility.
Morphology assessment, an important factor in male fertility, has been shown to be strongly associated with infertility. Evaluation of semen morphology is possible by specific staining and observation of the sample under the microscope. Abnormal sperm morphology concerns the shape of the head, neck and tail. The minimum acceptable percentage of normal sperm in a semen sample is 4%. Based on an analysis of the parameters governing semen quality and quantity, the aforementioned factors are evaluated collectively.
Before visiting Nova IVF, the couple visited ayurvedic and homeopathy centres for 2 years, but their efforts were unsuccessful. Both were depressed and stressed out as a result of continued failures and intense family pressure. Mrs. Amrita searched online for the next steps and came across Nova IVF Fertility Centre. She made the decision to call them after reading positive online reviews. To their relief, everything they had read online turned out to be true when they scheduled their appointment with Dr. Preeti Mahawar, the fertility consultant at Nova IVF Kolkata.
In addition, Mr. Udit underwent hormonal imbalance testing and genetic analysis. All his reports were normal. Mrs. Amrita's ovarian reserve was normal. 14 oocytes were obtained after the antagonist protocol. Dr. Preeti Mahawar advised the couple to undergo physiological ICSI (PICSI).
What is PICSI?
PICSI is a method of sperm selection based on the degree of maturation of the sperm.
Process for PICSI
The procedure for PICSI is the same as that of ICSI.
What is intracytoplasmic sperm injection (ICSI)?
Intracytoplasmic sperm injection (ICSI) is a procedure in which sperm is injected directly into the egg. This procedure is used mainly when male sperm have poor characteristics. ICSI can be considered one of the major breakthroughs in the treatment of male infertility, as only a few normal sperm cells are required. Men who were previously considered completely infertile now have an excellent chance of having a child of their own.
Since the first use of ICSI in 1992, it offers an alternative to donor sperm for people with severe male infertility including
Poor sperm morphology (abnormally shaped sperm)
Poor sperm motility (slow sperm)
Low sperm count
As ICSI involves injecting only one sperm into each egg, even the most severe male factor abnormalities can be overcome. Using a high magnification microscope, a single sperm is injected into the centre of a mature egg using a very fine glass needle, several times smaller than a human hair. Mrs. Amrita takes fertility drugs to stimulate her ovaries to collect several eggs. However, the only difference from ICSI is a change in the male gamete selection part. Sperm collection is done, i.e., by masturbation with an abstinence period of 3 to 5 days.
The seminal sample is then placed on a special plate, which contains a few drops of a synthetic material very similar to the hyaluronic acid that naturally coats the eggs. Sperm of good quality and of adequate maturity will remain attached to these drops and the embryologist can easily identify them for oocyte microinjection. Each egg receives sperm injection, so several embryos will be available for transfer and storage. The injected eggs are placed in an incubator and checked the next day for signs of fertilisation. Six embryos were formed and frozen as blastocysts. Then, the embryos were selected, which were most likely to become healthy babies for transfer.
The first transfer produced beta HCG levels of 232 mIU/ml, but she had a miscarriage at 8 weeks. During the next transfer following the same procedure, the beta HCG level was 1200 mlU/ml.
Finally, she is conceived and now 32 weeks pregnant. After a long journey, the couple is finally expecting good news regarding the birth of their baby with the assistance of the fantastic team at Nova IVF.
Take your first step towards happiness
Subscribe to our Newsletter
More case Study