Tips for a Successful and Healthy Pregnancy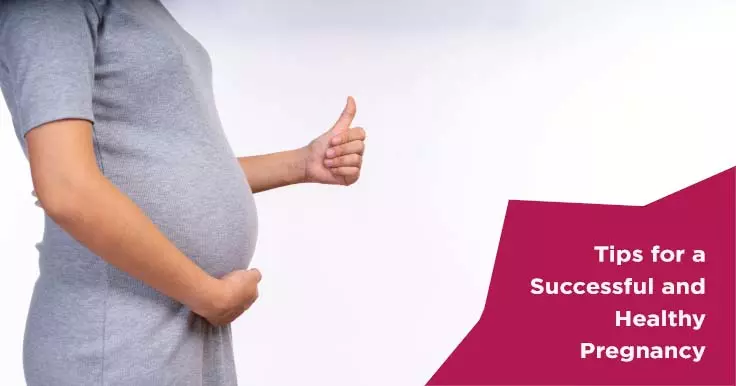 There are many effective lifestyle changes which will help in increasing your chances of pregnancy and to maintain the health of the mother and the baby throughout the pregnancy.
Effective Tips for Successfully Getting Pregnant
Let us take a look at some tips for successfully getting pregnant and maintaining a healthy pregnancy throughout:
Find a Good Gynecologist
Talk to your friends and relatives to know about the best gynaecologists in your area. Your comfort level with your doctor is important as pregnancy is a significant event in your life. You would want someone who can calmly talk to you and engage with your various doubts and worries during the pregnancy journey.
Talk to Your Friends and Relatives about Pregnancy and Parenthood
Pregnancy and parenthood are both exciting and at the same time worrying for many first time parents. It is always a good idea to talk to relatives or friends you are comfortable with to talk freely about your concerns. Subsequently, in your early parenthood also, it is nice to have a reliable sounding board to talk to.
Losing Weight If You are Overweight
Being overweight is one of the common signs of having difficulty in conceiving. Even after getting pregnant, overweight women have a higher risk of complications in their pregnancy.
Keep Your Exercise Routine
Staying on an active lifestyle is considered good for having a healthy pregnancy. As long as the exercises you have been doing does not involve the risk of falling, it is good to continue doing them. Consult your doctor to know more about safe exercises you can follow during pregnancy.
Eat Healthy Foods
An expectant mother will need an additional 300 calories a day to nourish the baby. However, it is important that you are adding these calories to your diet in the form of healthy and nutritious foods and not junk food. The more lean protein you can include is better. Your doctor might also prescribe a protein supplement to enrich your protein intake.
Avoid Environmental and Emotional Stress
Avoid being near people who smoke and avoid contact with harmful chemicals and fumes. This can be harmful to both the mother and the baby. Engaging in situations where there is minimal emotional stress for a healthy and happy pregnancy.
Drink more Water
Since the hormone progesterone cause water retention and bloating during pregnancy, to avoid this condition, the pregnant woman should increase her water intake.
Have a Good Night's Sleep
A pregnant woman's body is working to keep the mother healthy and the baby growing. Having a good night's sleep for about 8 hours is essential for an expectant mother. Additionally, taking daytime naps will reduce fatigue.
Keep up with Your Regular Prenatal Doctor's Visits
The urine tests, blood tests and heart rate monitoring done at specific intervals are essential to monitor the healthy development of your baby. A trained gynaecologist can identify and monitor even smaller changes that can have long-lasting effects on the child later on. It is advisable never to skip these regular check-ups with the doctor.
Take Your Prenatal Vitamins Every Day
All those prenatal supplements including iron and folic acid your doctor prescribes for you are important for the development of your baby. Make sure not to miss taking your supplements throughout the pregnancy. Remember that the only way the baby can get the required nourishments is through you.
Take your first step towards happiness
More Case Study