What are the assessment and Medical Treatment For Male Sexual Problems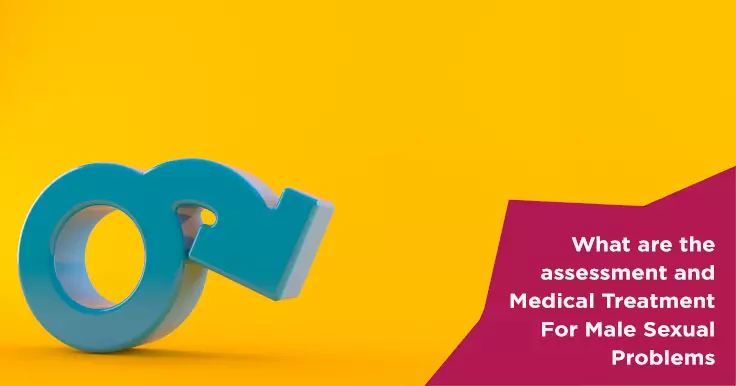 Sexual problems can be embarrassing to talk about but if you want to find a solution, you must be honest with your doctor. There are many different types of sexual problems that a man may face. Some men may have trouble maintaining an erection while others may ejaculate prematurely. If you face any such problems, it is important to remember that you aren't the only one facing these troubles.
Male Sexual Problems Assessment
The doctor will probably begin this assessment by asking you questions about your medical history, relationships, sexual history, stresses etc. You will also need to tell your doctor about any medication and natural remedies that you may be taking.
These questions may seem private and unconnected but must be answered to understand where the problem lies. These questions will be followed by a physical examination and checks for high blood pressure, neurological disorders, vascular disease etc.
A blood test may be administered to check for hormonal disorders, diabetes, thyroid disease, liver and kidney function and testosterone levels.
In some cases, some men may also be advised to undergo an ultrasound examination to check the blood flow around the reproductive organs.
How can Male Sexual Problems be Treated?
The first step towards improving a man's sexual functioning is to correct bad lifestyle habits. If you smoke or drink excessively, you will be advised to stop. A healthy diet and regular exercise can also help improve sexual functioning. In addition to this, oral medication may be prescribed to treat underlying conditions such as diabetes and thyroid disease or help regulate testosterone levels.
If the sexual problem is a side effect of another medication that you are currently taking, the doctor may prescribe a different medication in its place. Certain conditions require more specialized treatment. Below are some such conditions:
Erectile Dysfunction
Treatment for this condition can take the form of medication to dilate blood, implantation of a vacuum device to help create an erection, urethral suppositories or injections that must be self-administered into the penis. In some cases, vascular surgery may also be needed.
Premature Ejaculation
This can be treated with biofeedback exercises, topical medication to increase control over ejaculation and other types of medication to delay ejaculation. Therapy may be needed to address underlying psychological aspects of the issue.
Retarded Ejaculation
This can be treated through focus exercises and treatment for underlying anxiety issues.
Retrograde Ejaculation
This may be treated with medication or surgically depending on the severity of the issue.
Take your first step towards happiness
More Case Study