Dr. Apurva Satish Amarnath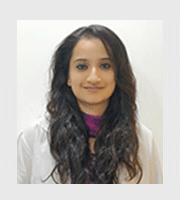 Dr. Apurva Satish Amarnath
MS (OBG), DNB (OBG), Fellowship in Reproductive Medicine, PGDMLE
Dr. Apurva Satish Amarnath is a Fertility Consultant at Nova IVF Fertility, Kammanahalli. Her decade-long prowess in Reproductive Medicine has enabled her to explore every facet of Assisted Reproductive Therapy (ART) and the evidence-based practices that can help couples conceive successfully.
Her areas of interest include using the multi-pronged approach in the management of PCOS, endometriosis, recurrent implantation failure, recurrent pregnancy loss, poor responders and male infertility. She also focuses on fertility preservation, which allows women to freeze their eggs, so they can use them to have biological children in the future.
Publications/Research Interest
Successful outcome of pregnancy with aplastic anemia: A case report. Sunil Kumar K. S, Laxmi V. Yaliwal, R. M. Desai, Prajna Kumari, Apurva. S. A. Journal of Evolution of Medical and Dental Sciences/ Volume 2/ Issue 12/ March 25, 2013.
Ruptured rudimentary horn of the unicornuate uterus at 16 weeks of pregnancy: A case report. Sunil Kumar K S, Laxmi Vijay Yaliwal, Apurva Amarnath, Prajna Anchan. Int J Reprod Contracept Obstet Gynecol. 2013 Jun;2(2):248-250.
MBBS from M.S. Ramaiah Medical College, Bangalore
MS (OBG) from SDM Medical College, Dharwad
DNB (OBG) from the National Board of Examinations, Delhi
Fellowship in Reproductive Medicine from Rajiv Gandhi University of Health Sciences
Postgraduate Diploma in Medical Law and Ethics from National Law School University, Bangalore
Dr. Shashidhar V Reshme Gold Medal for Excellence in Obstetrics and Gynaecology
Shri Datta Swarupi Padmatai Sevasmiti Trust Gold Medal for Excellence in Obstetrics and Gynaecology. University Rank Holder in the MS OBG University Examination, RGUHS
Best Paper Award in the category of Reproductive Endocrinology for "Role of transvaginal ultrasonography in perimenopausal abnormal uterine bleeding" at the 25th KSOGA 2014
Best oral presentation award for "Embryo morphology and its correlation to chromosomal status" at the YUVA-ISAR 2016
Member, Federation of Obstetric and Gynaecological Societies of India (FOGSI)
Member, Indian Society for Assisted Reproduction (ISAR)
Member, European Society of Human Reproduction and Embryology (ESHRE)
Member, American Society for Reproductive Medicine (ASRM)
Member, Karnataka Chapter of the Indian Society for Assisted Reproduction (KISAR)
Article Reviewed & Case Studies
by Dr. Apurva Satish Amarnath