Dr. Neha Singh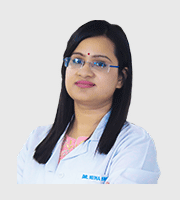 Dr. Neha Singh
MS, Fellowship in Reproductive Medicine
Dr. Neha Singh is a Fertility Consultant at Nova IVF Fertility, Gorakhpur. Her prowess in Reproductive Medicine has enabled her to explore every facet of Assisted Reproductive Therapy (ART) and the evidence-based practices that can help couples conceive successfully. Her expertise includes Fertility Counseling, Stimulation Protocols, USG guided Oocyte retrieval and embryo transfer, Fertility Enhancing Surgeries (Hysteroscopy and Laparoscopy), Sperm preparation and Retrieval like TESA, TESE, Testicular fine needle aspiration, DFI (DNA Fragmentation Index-SCD), Platelet Rich Plasma Therapy in Infertility (PRP), 3D/ 4D Ultrasound.
Her areas of interests include Repeated IVF Failure, Minimal Stimulation Protocol, Azoospermia. She has inclination towards research and publications. With her compassionate care many a couples have achieved the dream of parenthood.
Publications
Comparative evaluation of test characteristics of acetic acid, lugol's iodine and toluidine blue stains in cervical cancer screening. https://www.ijrcog.org/index.php/ijrcog/article/view/3747
A prospective study comparing the efficacy of oral iron, intra-venous Ironsucrose and Ferric-carboxy-maltose in postpartum anemia. * Int J Med Res Health Sci.1-107 No. 27th article https://www.ijmrhs.com/archive/ijmrhs-volume-5-issue-8-year-2016.html
A case study on "Torsion of gravid uterus managed by hystrectomy with foetus in situ". International journal of Applied Researches IJAR, published in volume 5, issue 4 in April 2015.
MS (OBG), King George's Medical University, Lucknow
Advance Fellowship in Reproductive Medicine, IFA, Udaipur
Global coordinator for Online ART training, ACRM, Cleveland Clinic, USA
Mentorship in Scientific Writing and Research (ACRM)
Member, Federation of Obstetric and Gynaecological Societies of India (FOGSI)
Member, Indian Society for Assisted Reproduction (ISAR)
Member, European Society of Human Reproduction and Embryology (ESHRE)
Member, Fertility Society India
Member, Indian Medical Association, Lucknow