Dr. Neha Singh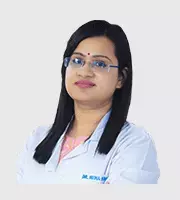 Dr. Neha Singh
Infertility Specialist in Gorakhpur
MS, Fellowship in Reproductive Medicine
Dr. Neha Singh is a Fertility Consultant at Nova IVF Fertility, Gorakhpur. Her prowess in Reproductive Medicine has enabled her to explore every facet of Assisted Reproductive Therapy (ART) and the evidence-based practices that can help couples conceive successfully. Her expertise includes Fertility Counseling, Stimulation Protocols, USG guided Oocyte retrieval and embryo transfer, Fertility Enhancing Surgeries (Hysteroscopy and Laparoscopy), Sperm preparation and Retrieval like TESA, TESE, Testicular fine needle aspiration, DFI (DNA Fragmentation Index-SCD), Platelet Rich Plasma Therapy in Infertility (PRP), 3D/ 4D Ultrasound.
Her areas of interests include Repeated IVF Failure, Minimal Stimulation Protocol, Azoospermia. She has inclination towards research and publications. With her compassionate care many a couples have achieved the dream of parenthood.
Publications
Comparative evaluation of test characteristics of acetic acid, lugol's iodine and toluidine blue stains in cervical cancer screening. https://www.ijrcog.org/index.php/ijrcog/article/view/3747
A prospective study comparing the efficacy of oral iron, intra-venous Ironsucrose and Ferric-carboxy-maltose in postpartum anemia. * Int J Med Res Health Sci.1-107 No. 27th article https://www.ijmrhs.com/archive/ijmrhs-volume-5-issue-8-year-2016.html
A case study on "Torsion of gravid uterus managed by hystrectomy with foetus in situ". International journal of Applied Researches IJAR, published in volume 5, issue 4 in April 2015.
MS (OBG), King George's Medical University, Lucknow
Advance Fellowship in Reproductive Medicine, IFA, Udaipur
Global coordinator for Online ART training, ACRM, Cleveland Clinic, USA
Mentorship in Scientific Writing and Research (ACRM)
Member, Federation of Obstetric and Gynaecological Societies of India (FOGSI)
Member, Indian Society for Assisted Reproduction (ISAR)
Member, European Society of Human Reproduction and Embryology (ESHRE)
Member, Fertility Society India
Member, Indian Medical Association, Lucknow
Patient Testimonials
Dr neha Singh MS, advance fellow reproductive medicine and senior gynaecologist is very dedicated and competent in her work and very humble and polite in person, her new venture nova IVF is a bliss to many couples who r seeking treatment for infertility which is very precise in accuracy and affordable in its price.
 
Bhupen Singh
Exceptional doctor-Dr Neha and a caring person at heart .it's a great setup with all latest facilities. All the best!!!
 
Ankit Verma
Best fertility center in Gorakhpur and also all staff and dr Neha is very experienced. I am always recommend to every patient for visit to nova ivf Gorakhpur.
 
Mr Patel
This is very good hospital for ivf in gorakhpur. Dr Neha highly qualified with lots of experience, and the hospital staff are also very cooperative. Patient is very well taken care of.
Akhilesh Yadav
Dr Neha Singh is very talented and experienced doctor. Nova IVF Center in Gorakhpur provides best treatment related to women.That's why I recommend you to come here. thanks??
BK Sharma
Our experience in other hospitals has been very bad, but in NOVA IVF we had a very good experience. Everyone here is open minded & professional and we didn't face any problem regarding appointments
Mrs. Phonsiri
When I started my treatment I was very much scared about how it is going to be, but later I realized that you guys are amazing. The way that you support mentally is just amazing. My special thanks to Doctors at NOVA IVF Fertility. Thank you all for everything.I have never been to any other fertility hospital. But I can tell you one thing that everything is best in NOVA IVF. All staffs are very sweet and positive. Thank you so much.
Mrs. Nirupama
Thank you Nova IVF fertility. Your reassurance and confidence brought us joy. This is to express our happiness and thankfulness to the doctors, Staffs, nurses and clinical assistants of Nova IVF fertility. We appreciate the facility, infrastructure, advanced labs and the experience of the staff members. At Nova IVF fertility it is very nice and co-operative environment.
Mrs. Shobha
My experience is very good from the beginning to the completion of the treatment. All sisters and doctors are very good, they always take care of their patient. I am very happy that I found this Nova IVF Fertility. Thank you.
Mrs. Khan
I had been to many famous fertility clinics in town, but I was very disappointed with the doctors. They never saw me except the first day & the hospital waiting time for scan and consultation was very long. Being very disappointed I stopped visiting fertility clinics for few years till the time one of my friend suggested Nova IVF Fertility. Nova is one of the best places I have visited for infertility treatment so far. Doctor at NOVA IVF advised me at every step of IVF, guided me through every stage & today I am a mother of a beautiful baby girl.
Mrs. Preethi
When we done our IVF treatment for the first time, the result was positive but after five months it gets miscarriage. Then we have done IVF treatment second time, that time we had our bad luck and we didn't get success. Then we got to know about NOVA IVF again we decided to go for IVF third time and finally we got success. We are very thankful to NOVA IVF the whole team of Nova IVF center. NOVA IVF is very good as comparing others.
P. S.
From last 10 years I had consulted with so many doctors but I never got the result. In other hospital whatever the report are they proceed for next step which is not happened in Nova IVF. Also they don't understand to their patients but in Nova IVF here all staff take care and support them. Thanks to Nova IVF clinic and all the staff.
Ms. Kavita Mali
It's been very nice experience with Nova IVF. Doctor had gave all details about procedure and made it easy to understand also they cure their patients very nice. If all report are ok then only doctors proceed for next step. All staff is good and they had given all good suggestion also they told everything like how we can get benefit, what should we do and what we should not do. And with the help of all that I got my positive result in 6 months.
Ms. KR